What the heck is that? Oscillation?! Hey I talking about the power mascara from Lancome which has been launched in US last year and now I finally got it after a long wait caused I missed the pre-sales on the February at Isetan KLCC. So end up putting my name in the waiting list to order this mascara for its official launch in April 2009. So I'm been waiting this for six months.
Got a call from Lancome counter last weekend, they said "Oscillation Mascara is here", and straight away went to the counter to get it after work. But I not able to try it until today because been busy with work since last week due to quarter ending and our company financial year end closing. This morning I am using Oscillation mascara to see what is the different between this with others ordinary mascara.
Lancome Oscillation Mascara is only available in black-white (I was wondering why they called the color "black-white?) currently (I mean Malaysia) and what I got from their website it's available in waterproof formula.
The secret for the secret for this mascara is it does the zig-zag motion for you while you applying your mascara. How? There is a little button at the cap, press the button and hold it down while you applying your mascara. When you press the button, the mascara tip is vibrating at a zig-zag direction and oscillates to wrap up the lash up to 360°. The great thing is the Oscillation is that it does all the works, no need wiggled the brush side by side or rotate the mascara tip.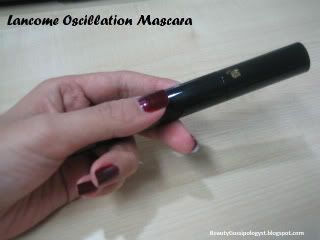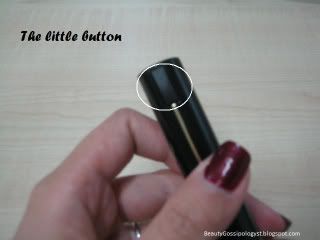 I tried to use the Lancome Oscillation without eyelash curler and the result my last does curl up and separate nicely with NO SMUDGING and I applied another two coats for longer and volume lash.
Tadaa…Here is the result after I tested it out. BEFORE applying the mascara, you can't see my lash at all. AFTER, here you go, the eyelashes!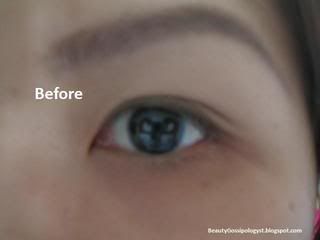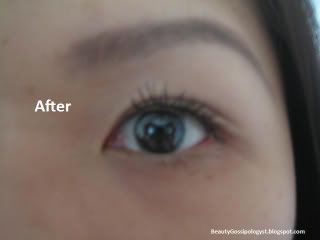 For me I would say Lancome Oscillation is suitable for daily use basis but if you want a more dramatic effect for party look, please add another falsie on top of your lash.
Joey